Hello, I'm completely new here - testing out the trial subscription. I have two questions that may seem very simple but I feel like I need to really get them answered if I'm going to ultimately be able to play the way I want to play, so I need to understand/learn the fundamentals. (I have never had any lessons before.)
I've played guitar for a good while, but I'm new to "flat picking." Turns out that my grip on the pick is "wrong," or different. I'm experimenting with changing my grip to more closely resemble that shown in Ben's video, but it's a pretty big change for me. I can kind of get there, but not all the way. Is this kind of like changing your golf grip - it may feel bad at first, but you can't play really well without the proper grip so you must correct the grip immediately? Does that right finger need to be bent so far around? How does the "correct" grip allow you to play faster/easier than using my old/lifelong grip? For example - I worked on the lesson on Black Mountain Rag starting on Sunday. I can play it at 180 bpm right now, but there are some spots that are showing up that seem to hold me back. The same thing (even worse) is happening with Blackberry Blossom at the same speed limit of 180 bpm - when I move down to the A and D strings on Blackberry Blossom I get in trouble trying to go faster. This also leads me to my second question,

Is it an absolute rule that you must pick up/down every single beat? Or can you pick down-down, if for example you're going from the A string (2nd string from the top) down to the D string (3rd strong from the top)? This seems more efficient, but does it complicate things by breaking the up/down pattern so that you can't go faster after a certain point? Maybe there's a video about this that I haven't found? This may be where I'm getting into trouble in addition to, or maybe instead of, the way I'm holding my pick?
Setup: 20 year old Taylor 714, Elixir light strings, now experimenting with various pick shapes and widths about 1-1.2mm thick which I like (was using .76 or something), I don't anchor my pinky but I do generally have the pinky in some sort of light contact with the sound board for a reference.
Here is how I've just always held the pick using my thumb and index and middle fingers,
and here is how I'm starting to hold it - is this close enough to the "proper" grip?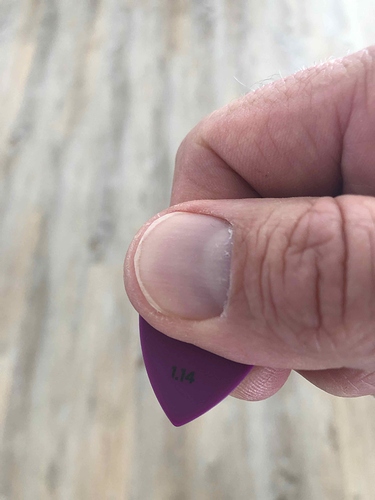 Thanks!