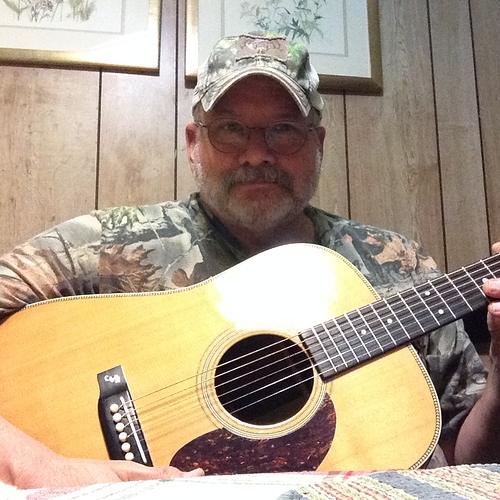 What was it that first got you interested in playing the guitar, mandolin or banjo?
When I saw the Beatles on Ed Sullivan show in 1964 I wanted to learn guitar. I started taking lessons on acoustic guitar at age 10 .
How long have you been playing and what's your motivation to play?
I started in 1964 with lessons on the acoustic guitar. I added lessons on bass guitar in 1966. When I got to 9th grade in 1968' because of my size 6ft 3in 220pounds I was told I should play football. That slowly took me away from music. I played 4 years of high school and 2 years in college. By the time I got to 11th grade I stopped playing to devote more time to football. At the end of my sophomore season in college I tore up my knee. That ended my football days. I got married got a job and had 3 kids. I never picked up a guitar again until I was 48 years old. I can say since the day I started playing again in 2002 I've never put the guitar down. In the last 17 years I've played in a bluegrass band. Now I'm retired and play more than ever.
What's your favorite lesson on Ben's site and how has it helped you improve?
My favorite lesson from Banjo Ben …that's tough there are so many. I'd have to say The Wreck of Old 97 is one. We play that in the band and Amazing Grace another one we play in the band. I've taken Ben's lesson of The Wreck of Old 97 and added some different licks to it as to fit our bands style.
What's your goal when playing?
I just enjoy picking the acoustic guitar. My goal is just to have fun.
Are there any other instruments or genres of music that you enjoy playing?
I still play some bass guitar once in awhile. Besides bluegrass I like to play the music I grew up with in the 1960's. It's something I enjoy playing when I'm alone. Songs by Bob Dylan, Peter Paul and Mary, Simon and Garfunkel and many more.
How long have you been a Gold Pick member?
When Ben first started Banjo Ben I was a member for a few years. Then I rejoined about 2 months ago.
How did you find out about Banjo Ben?
I think when Ben first made a YouTube video years ago I joined the site right away. I saw how talented he was and knew I could learn somethings from him.
Do you have a favorite technique? What is it?
My favorite style of playing since I started playing again in 2002 is the style of Mother Maybelle Carter. I'm a Hugh fan of Mother Maybelle. It took me a couple years to learn Carter style but it's mainly what I do now.
If you could play in anyone's band, who would it be and why?
Doctor Ralph Stanley for one in the 1970's , 80's 90's up till his death. I would loved playing with him. He had the perfect voice for bluegrass. Of course I would have really liked to have played with Mother Maybelle Carter. She just made it look so easy and she was there from the beginning of Country music.
What type of gear or accessories have you found that work best for you?
I keep it pretty simple any standard series Martin like my 2004 HD28 with medium gauge Martin strings and my Gibson Hummingbird that's all I need. I'm not fussy about picks. I use a Blue Chip pick and regular old Martin or Fender picks and a capo. That's it.
If money was no object, what would be your dream instrument(s)?
A Martin D18 or D28 made before World War 2.
If you didn't have to sleep, what would you do with the extra time?
That's easy I'd just keep playing. I'm retired so I play all night if I want to.
I have 6 grandchildren all age 5 or under. I hope at least one someday has an interest in playing guitar.