What was it that first got you interested in playing the guitar, mandolin or banjo?
My grandfather played multiple instruments including the guitar, piano, harmonica, and he even learned to play my first banjo before I did (I never learned it as a kid). I can still vividly remember those summer nights when I would get to spend the night with my grandparents and he would stay up playing his Sears and Roebuck Silvertone 12 string that he always kept strung with only 6. I will never forget how it sounded. He always played Carter Style guitar by ear, but I don't think he knew it was called Carter style. I think he just played what he heard others play. I never learned a whole lot from him until I was 15 yrs old. We had an exchange student that lived with us that year, and my parents bought me my first guitar right before that. She taught me my first guitar chords and I never looked back. After getting started, I sat down with my Pa and learned a few of his tunes, including some original stuff he wrote. When I was about 18 we had a mobile recording studio from Nashville come to our house, and set up. My mom has always taught voice lessons, and she had the mobile studio come out to record some of her students. The studio liked setting up at our house since we were in a very rural area and there was no noise. We ended up getting a recording session done with my Pa playing my guitar and singing. I regret I didn't play along with him, but I was sitting in the room with him and I can be heard on the CD asking him to play certain tunes. I still have that recording digitally, and I listen to it often to bring back memories since he passed away in 2010.
How long have you been playing and what's your motivation to play?
I started playing in 1996 when I was 15 year old and played very consistently with our church youth band until I graduated high school. After graduation I went to work and quit the band because I thought I didn't have time for it. (I can't imagine that now, since I was not married and had no kids back then…) I gradually played less and less until I was picking up my guitar only about once every two months. I remained at that pace until 2016 (I think) when I found BanjoBenClark.com. My motivation to play is just the rekindled love of making music, I had forgotten how much I enjoyed it. I usually can't wait to get my practice in everyday!
What's your favorite lesson on Ben's site and how has it helped you improve?
My favorite lesson for banjo is Waypoints in G and C, it opened up the fretboard more than any other lesson for me. My favorite lesson on guitar right now is any of the bag o licks, they are helping me learn to improvise and string licks together.
What's your goal when playing?
My goal right now for banjo is to get my timing right, I realize I have an issue with getting my rolls even and I'm really working hard on it. My goal for guitar right now is clean picking and to build some speed. My overall goals for both instruments is to have fun, keep progressing and to improvise more.
Are there any other instruments or genres of music that you enjoy playing?
I've been taking piano lessons now for 4 whole weeks! I took 2 years of lessons as a kid but I ended up quitting. As a teenager I played a lot of southern rock stuff, Skynyrd was always my favorite! I also used to really like Hendrix and Stevie Ray Vaughn. I always enjoyed listening to country music in the 90's but I never played much of that. While I still enjoy listening to all that stuff, my hands down favorite is Bluegrass!
How long have you been a Gold Pick member?
Since 2016…I think.
Do you have a favorite technique? What is it?
My favorite banjo technique is rolling backup, and my favorite guitar technique is cross-picking.
If you could play in anyone's band, who would it be and why?
Taylor Swift…Just Kidding!

Ricky Scaggs and Kentucky Thunder for sure, but the second runner up would be the Purple Hulls. If I was good enough to play with either of those two bands that would mean I was an awesome picker!
What type of gear or accessories have you found that work best for you?
I love my bluechip thumbpick and flatpick. The Daddario Bluegrass strings have been a great discovery as well.
If money was no object, what would be your dream instrument(s)?
Screen reader support enabled.
Probably a pre war Gibson banjo, and a Crowder Guitar (Whatever Tony Wray has!) However I've never played either of those instruments so that's just based on hearing other folks play them. I really am happy with both my Eastman E10D and my Derring Sierra, they are both fantastic instruments.
If you didn't have to sleep, what would you do with the extra time?
I would probably spend more time with my family, the kids are growing up so fast. I would also do some more hunting/fishing, and play some more music of course!
How did you find out about Banjo Ben?
I found Ben on YouTube. I had pulled out my old banjo that my parents bought me when I was a teenager. I never learned to play it, so I was considering trying to learn it. I had no idea where to start so I was searching youtube when I stumbled across Ben. I initially bought a few TAB sheets and bought a few monthly Gold Pick Memberships, but my wife bought me the Lifetime membership for Fathers Day that year. I keep telling her that she has never bought me a gift before or since that I have used every single day like I do my Lifetime Gold Pick Membership. I love my wife!
Anything else you'd like to add? Can we share this or is this private feedback?
Banjobenclark.com is by far the best music learning site on the internet, and Ben seems to be just a great person. (I really hope to meet him one day). The site just encourages me to keep playing, and I'm also encouraged by how Ben is not ashamed to share his faith in Jesus Christ. Thanks for creating this great site!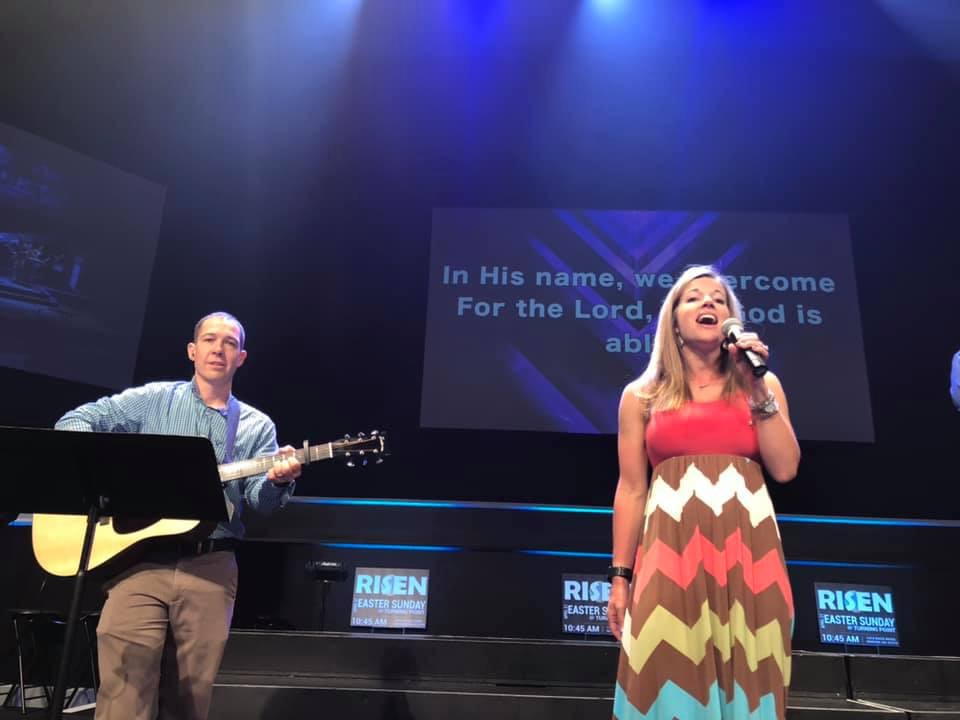 Brandon and his wife.